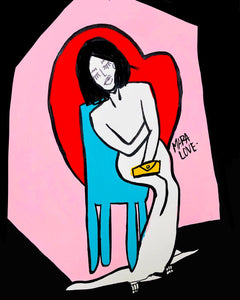 All art prints will be produced to the highest printing standards with inks that significantly enhance the visual brilliance of both color and black & white artworks.
*You will receive a hand signed digital art print with a certificate of authenticity.
The original painting "EMPOWERED SOUL" belongs to a Limited Edition Collection composed of a series of five original MARALOVE paintings  from 2018-2019.
This Collection is inspired by the encouragement of self love, self forgiveness, and taking care of your soul. Each original piece is named by Mariel with an inspirational phrase that suits the painting. These titles are inspired by the artist's life experiences, passions, and her love of art.

*FRAME NOT INCLUDED