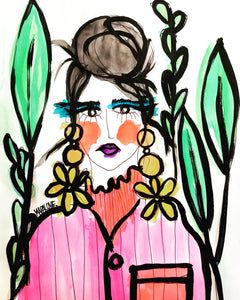 All art prints will be produced to the highest printing standards with inks that significantly enhance the visual brilliance of both color and black & white artworks.
*You will receive a hand signed digital art print with a certificate of authenticity.
The original painting "SANDRA" belongs to a Collection that I created while drawing sketches of girls,  I noticed they had facial expressions depending on how I was feeling at that moment of creation.
After realizing that each girl was taking personalities, I decided to named them "Moody Girls".
-MARALOVE
 *FRAME NOT INCLUDED