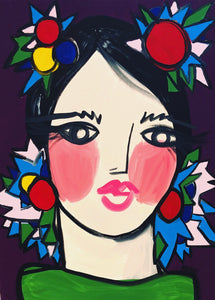 "WHEN FASHION MEETS ART" COLLECTION 2017-2018 holds true to its name as it was created with the intention of combining fashion and art. This is a vibrant combination of colorful paintings along with fashionable fabric accessories. The collection provides a balance between femininity, fashion, and art through its distinct pieces.
This collection has been featured within two different NORDSTROM stores in California.
This painting was on display in store at Neiman Marcus, San Diego as an artistic collaboration for the luxury brand TOM FORD.
"GIRLS WILL BE GIRLS"
Size: 30x40"

Media: acrylic on canvas

EACH ORIGINAL PAINTING WILL BE DELIVERED WITH A CERTIFICATE OF AUTHENTICITY*