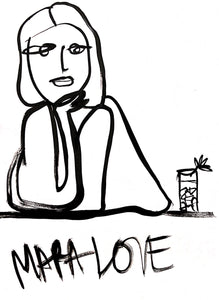 COLLECTION "THE MAGIC OF EXPRESSION" 2017-2018

"This Collection is inspired by the impact that has expressing your emotions in life. Considering a simple look to anyone, the way you talk, behave and your attitude.
To realize that, your expression can be magical and circunstancial change towards any situation. It will develop and transform in your daily life a positive or negative result. All your expressions to every situation will define and have a reaction in your life to live in harmony or the opposite.
"SARA"
Size: 9x12"

Media: acrylic on paper

This original artwork will include professional gallery frame.

Final size will be 28x32"
Availability for color and style of frame upon purchase.*

EACH ORIGINAL PAINTING WILL BE DELIVERED WITH A CERTIFICATE OF AUTHENTICITY*