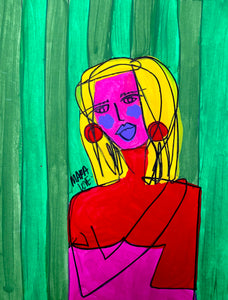 This is a Limited Edition Collection composed of a series of five original MARALOVE paintings 2018-2019. This Collection is inspired by the encouragement of self love, self forgiveness, and taking care of your soul. Each original piece is named by Mariel with an inspirational phrase that suits the painting. These titles are inspired by the artist's life experiences, passions, and her love of art.
"SELF LOVE"
Size: 9x12"

Media: acrylic on paper

*This original artwork will include a professional gallery frame. Frame with the painting's final size will be 28x32".

Choice of color and style of frame upon purchase.*

This Limited Edition Collection was on display in two different NORDSTROM stores in California. Each original painting was printed to be featured in size 36x48" covered in acrylic glossy finish. Only one of each original piece was printed.
EACH ORIGINAL PAINTING WILL BE DELIVERED WITH A CERTIFICATE OF AUTHENTICITY*